True Crime Arizona Podcast: The Zombie Hunter
A case more bizarre than police had imagined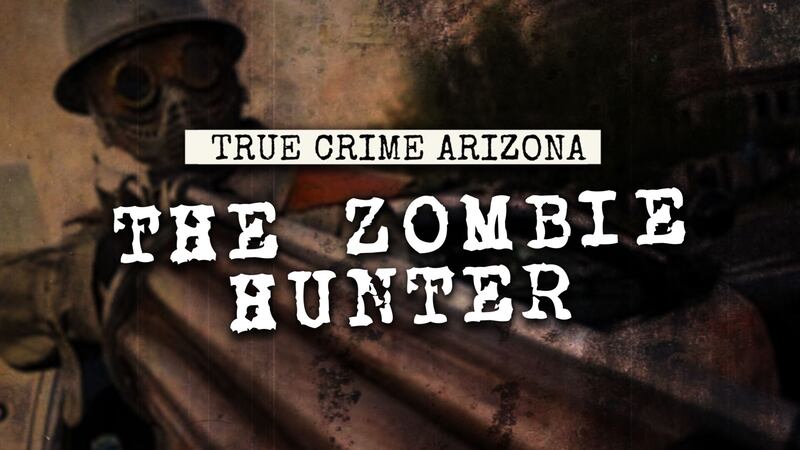 Published: Jun. 2, 2022 at 4:07 PM MST
PHOENIX (3TV/CBS 5) - In the early 1990s, five girls went missing near the Arizona Canal in Phoenix. Four of them were found dead and one remains missing. It left residents living in fear until a breakthrough decades later. But what police found was more bizarre—and possibly more deadly—than they had ever realized.
EPISODES
THE ZOMBIE HUNTER Episode 1 - The Canal Murders: Five young women go missing in Phoenix in the early 1990s along and near the Arizona Canal. Two of them were found brutally murdered—along with a DNA link—but the killer was nowhere to be found.
THE ZOMBIE HUNTER Episode 2 - The Man Behind the Mask: In 2014, people knew Bryan Patrick Miller as "The Zombie Hunter," a character who frequented local fantasy and sci-fi festivals. While the "Zombie Hunter" was portrayed as a fictional crime fighter, we discovered that under the mask lurked a very real dark and violent past.
THE ZOMBIE HUNTER Episode 3 - The Arrest: Decades after the Canal Murders investigation went cold, a forensic genealogist cracks the case using DNA. In doing so, the case made history.
THE ZOMBIE HUNTER Episode 4 - Where is Brandy Myers?: In May of 1992, 13-year-old Brandy Myers vanished in her Phoenix neighborhood while collecting money for a school project. Her case went cold for years, until Bryan Patrick Miller was arrested for the Canal Murders. That's when police received new information that Miller may have confessed that he killed Brandy.
THE ZOMBIE HUNTER Episode 5: An Alarming Encounter: After listening to our initial episodes, a woman contacted us and shared a terrifying encounter she claims she had on the canal trail the night Angela Brosso went missing. She details a man on a bike stalking several people, including herself, and says she passed Brosso biking that night. The next morning, Brosso was found decapitated.
THE ZOMBIE HUNTER Episode 6 - Up Close and Personal: As this season continues, more people are coming forward to share their first-hand experiences with Bryan Patrick Miller. From his neighborhood, to a church, to the time of Miller's arrest, hear the details of these chilling face-to-face encounters.
THE ZOMBIE HUNTER Episode 7 - New State, New Victims: In the early 2000s, Bryan Patrick Miller moved to the Pacific Northwest. Three brutal and bloody assaults against three women coincided with Miller's time in the city of Everett, Washington. Investigative reporter Morgan Loew traveled to Everett to retrace Miller's steps in an effort to answer the question: Are there more victims?
THE ZOMBIE HUNTER: A Breaking Update: As Bryan Patrick Miller remains in jail facing charges in the deaths of 22-year-old Angela Brosso and 17-year-old Melanie Bernas, a judge just made a significant ruling that will shape how this case will play out.
THE ZOMBIE HUNTER Episode 8: To catch the Canal Murders killer, Phoenix Police detective Troy Hillman assembled a team and tried unheard of—and widely doubted—tactics. His team's innovation was the only way an arrest was made. For years, Hillman was not allowed to speak about the case. But just days after retiring, he sat down with us to discuss it for the very first time.
THE ZOMBIE HUNTER Episode 9 - Inside His Home: Much of the Zombie Hunter's court documents are sealed and the official police investigation was never released. But Briana Whitney and Morgan Loew glean new details and new insight about the case from those who covered Bryan Patrick Miller's arrest and those who knew him.
THE ZOMBIE HUNTER Episode 10 - Insane? Or Destined for Death Row?: Bryan Patrick Miller is suspected in more attacks than he's been charged with. Will we ever really know if he is responsible for those? Briana and Morgan look into how the prosecutor's decision to pursue the death penalty could leave victims and their families with questions that are never answered. We also examine how an insanity defense could eventually set him free.
Copyright 2022 KTVK/KPHO. All rights reserved.