Surprise Squad donates to Higley High School marching band for D.C. trip
Surprise Squad is sponsored by Valley Toyota Dealers.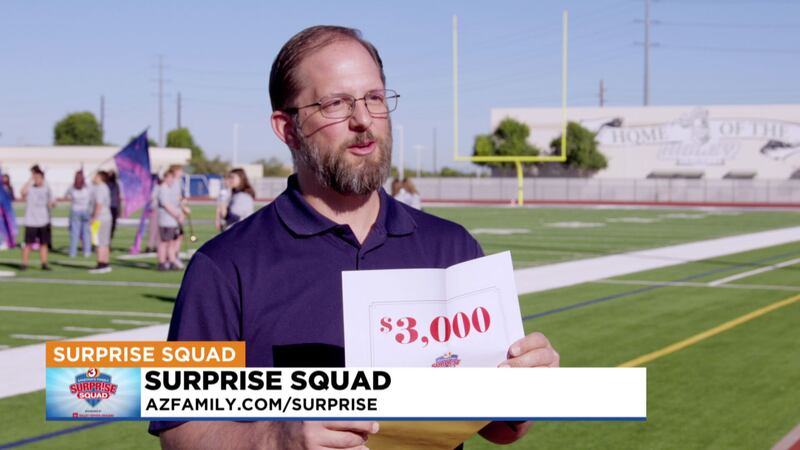 Updated: Nov. 11, 2021 at 8:00 AM MST
GILBERT, AZ (3TV/CBS 5) -- The Higley High School marching band is preparing for an amazing event. They've been invited to perform in Washington, D.C., on Memorial Day weekend in 2022. But a major trip like this doesn't come cheap, and the students have been fundraising in hopes of reaching their goal. When 3TV's April Warnecke and Arizona's Family Surprise Squad heard what they were doing, they marched over to the Gilbert school to pay them a visit. Band director Chesley Sharp thought the crew was there to do a feature story on their program and had no idea about the surprise.
"I love being able to take the musical journey with kids," Sharp told Warnecke. "Every day is slightly different. Every quarter we're starting a new set of music. I think it's something that gives students an opportunity to express themselves in a way they can't do, written or otherwise. We have class every morning, so they're here at 6:25, starting their day. And then we also rehearse two evenings a week from 6 to 9, so they spend a lot of time working on this activity."
Christian is a senior at Highley High School and also the band's drum major. "For a big trip like this, especially after that covid year, we didn't have much. We only had four football games to perform at last year. We didn't get parades or anything like that. So to come back off of that, we're doing the Veterans Day parade, the Gilbert Days parade, and the parade in D.C. Just to have all this group going at once, it really means a lot."
On top of the marching band, students in the orchestra and concert band have also been invited. The total cost is more than $200,000, which breaks down to about $1500 per student.
"We're doing our best to do fundraising opportunities," Christian said. "It's pretty difficult because there's only so much you can do as a teenager, and you can only ask parents and family so much."
"I'm sure you wouldn't want to have to tell anybody they couldn't go along," Warnecke said to Mr. Sharp.
"We're doing everything we can to make sure that doesn't happen," Mr. Sharp replied.
"We are happy to be out here and help to showcase what you guys are doing and spread the word," Warnecke smiled as she handed him an envelope. "But we're also with the Surprise Squad, and so on behalf of the Valley Toyota Dealers, we'd like to help you guys out a little bit."
"Wow," Mr. Sharp said with a laugh. "I didn't know that was what this was about. That's so exciting." He opened the envelope and read that the Surprise Squad was donating $3,000 to the cause.
"We know that you have a long way to go, but we hope that by helping you out a little bit, it's going to encourage other people to want to help you guys out as well," Warnecke said.
If you are interested in helping the band go on their trip, you can use the tax credit to make a donation. To find out more, visit one of these websites: https://www.husd.org/taxcredit or direct link: https://az-higley-lite.intouchreceipting.com/