The history and art of perfecting the perfect loaf of sourdough bread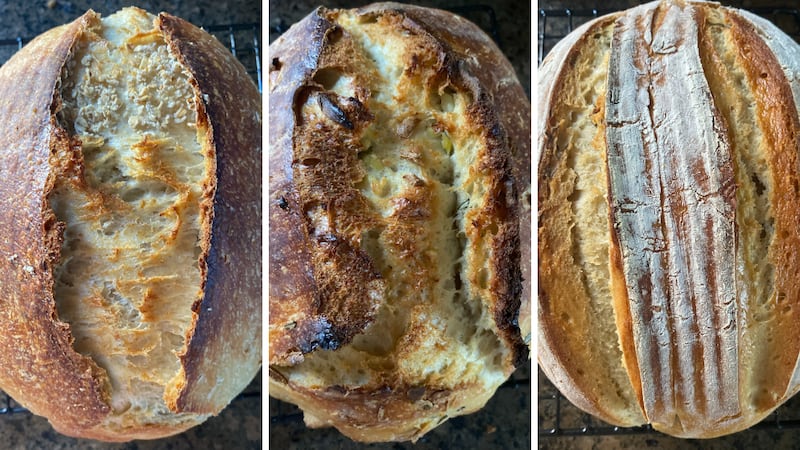 Updated: Oct. 30, 2021 at 8:12 AM MST
PHOENIX (3TV/CBS 5) -- Baking is a science. You combine amounts of ingredients in different amounts to become something else. You know flour, salt, water… all comes together time and time again yet oftentimes you get a different result. It's the same with basic sourdough – the sourdough starter, flour, water, and salt. The only difference is what kind of flour you decide to use.
Kinds of flour
Bread flour

Whole wheat flour

Almond flour

Rye flour

Gluten-free flour

All-Purpose flour
And the list goes on. Your choice depends on your preference and the kind of bread you are making.
Making the starter
You can use any variety of flour to make a starter maybe even have a few different kinds going at once. I usually use the all-purpose starter that I created in 2020 at the start of the pandemic. It was my first one too. The starter is just flour and water. That is it. It's a week-long process.
Day 1 - Mix one cup of flour and one cup of water. Mix it and then allow it to sit for 24 hours. Store it in a glass mason jar in a warm part of your house for example, above the fridge.

Day 2 - Discard/throw out half the starter. Then add one cup of flour and one cup of water.

Day 3 to 5 - Repeat the steps of Day 2.

Day 6 and 7 - Discard/throw out half of the starter. Then add one cup of flour and one cup of water. This time, complete the process in 12 hours instead of 24 hours.
Try to keep the starter when you discard it especially after the first week or two. You can find a bunch of recipes solely for sourdough discard such as muffins, scones, bread, waffles, brownies, cookies, and the list goes on. The ideas are just endless. It's proof that sourdough isn't just for bread but for other tasty items.
Health benefits of sourdough
Did you know that sourdough bread is good for you? Some would think the latter because well it's the bread and that means carbs. In actuality, sourdough bread can be "prebiotic" meaning that it helps feed the good bacteria in your stomach to help your digestive system. According to WebMD, it produces lactic acid which is what gives it that sourdough-y taste we love but that also helps kill bad bacteria.
Sourdough bread is packed with calcium, potassium, magnesium, folate, and niacin. It's a great source of antioxidants as well.
History of sourdough
Bread and grains go back in history as the one way to make food that could feed a population, saving them from starvation. It was something that kept the belly full. Breadmaking can be dated back to the Egyptian pyramids and the Roman Empire. It went through France and made its way to San Francisco during the Gold Rush.
If you have been to San Francisco especially Fisherman's Wharf, Boudin Bakery is a staple. According to Boudin Bakery's website, the first bakery was established in 1849. Years later, they created a mother dough which Boudin uses for their bread and is also known as a starter and helped feed people a crucial time in history.
Historical figures like Martin Luther, Marie Antoinette, Plato, and a few others relied on sourdough bread for "sustenance." Bakers were relied on since the earliest of times for making bread of some sort on a daily basis, according to the book, Sourdough Culture by Eric Pallant. The bread was kneaded by hand and passed down from generation to generation.
Today, bread can be made in a similar fashion with a KitchenAid Mixer or a bread machine but no matter what, the process remains the same - same duration per bread kind, similar ingredients, and of course the same amount of patience plus practice.
Why sourdough?
Sourdough became a big deal during the COVID-19 pandemic and quarantine because people were at home and particular items were not available to buy like yeast. There was a time you could not find packs of yeast anywhere probably because everyone had the same idea – make/bake stuff at home. It was a time many people were forced to get creative. The thing about sourdough is that it didn't even need any of those yeast packets – it needed flour which was somewhat easier to find or something many people already had available in their pantry. Besides that, water and salt were likely the only ingredients unless you wanted to get creative.
It all starts with a starter. And if you kept up with it or not but many people during the pandemic found sourdough to be a hobby. Sourdough isn't just bread – it's the gateway to other amazing sourdough items that can continue your endeavor of wanting to get creative.
Like some, I have kept up with sourdough making. Each week I "feed" my starter and discard part of it. I either decide to save the discard to make bread or other items or I throw it out just depending on what I am up for but have had the same starter going since the day I started during the COVID-19 pandemic.
Copyright 2022 KTVK/KPHO. All rights reserved.