3 pumpkin recipes you can make at home, including one for your dog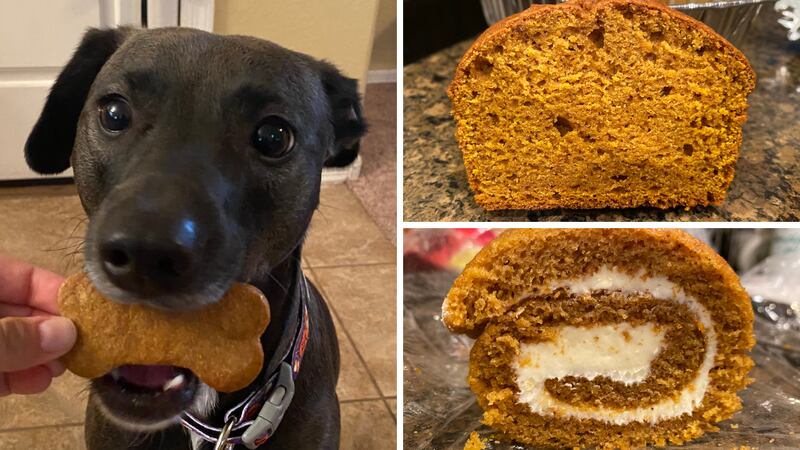 Updated: Sep. 4, 2021 at 5:00 AM MST
PHOENIX (3TV/CBS 5) -- Pumpkin spice and everything nice because it is officially that time of the year for pumpkin spice and pumpkin everything! Honestly, it may seem like pumpkin spice season comes earlier and earlier every year but maybe that is because everyone wishes it was already fall.
Everyone, especially in Arizona, is probably wishing it was time for flannels, cooler temperatures, UGGs, and leggings. If only for a moment, pumpkin spice takes us there but then when it's gone, it brings us back to reality.
Pumpkin spice actually has some great health benefits, particularly the pumpkin part of pumpkin spice. Pumpkin is filled with vitamin C and E, iron, and folate. It will help your immune system too.
According to WebMD, pumpkin can help ward off germs and speed up healing. It also helps keep your blood pressure down, keeps your eyesight sharp, curbs your risk of cancer, and much more. Perhaps they should change the saying "an apple a day keeps the doctor away" to "some pumpkin a day keeps the doctor away!" Pumpkin is one of the best things to incorporate into your diet.
Pumpkin is actually also great for dogs and their tummies. Pumpkin is filled with nutrients and fiber. It's great for your dog if they have an upset stomach. All you need is a can of pumpkin. Just make sure it's 100% pumpkin. If you are giving your dog some for a tummy ache, just give them about 1 to 4 tablespoons per meal (depending on the size of your dog). It's also a safe product to give your dog in a treat like a pumpkin cookie because, in addition to helping their tummies, it is packed with great nutrients to keep them regular and happy.
***Editor's note: The dog recipe does not include any pumpkin spice ingredients - Just pumpkin. Don't give give "pumpkin spice" to your dogs.
There are so many different kinds of pumpkin products you can find from not through Thanksgiving. Coffee shops like Dunkin' and Starbucks, among other coffee shops, bring out their pumpkin spice drinks and other products, which every year seem to come out sooner and sooner. Trader Joe's transforms their entire store into almost everything pumpkin spice-related, from pumpkin spice boxed loaves you can make at home to pumpkin spice biscotti. Just imagine eating what you typically eat and add pumpkin spice to it.
Here is a list of a few pumpkin-inspired desserts:
Pumpkin pie

Pumpkin doughnuts

Pumpkin cupcakes

Pumpkin cookies

Pumpkin bread

Pumpkin pudding

Pumpkin cheesecake

Pumpkin biscotti

Pumpkin snickerdoodles

Pumpkin spice coffee cake
And the list goes on and on. There are also popular pumpkin dishes such as pumpkin soup, pumpkin ravioli, and so forth.
Copyright 2022 KTVK/KPHO. All rights reserved.