Family traditions and love for the community radiates at Hap's Pit Barbecue in Phoenix
Christine says she's continuing her father's "dixie-style" of barbecue, primarily using Southern influences.
Updated: Feb. 24, 2021 at 4:25 PM MST
PHOENIX (3TV/CBS 5) -- Pulling into the parking lot for the small strip of eateries just off 48th and Washington streets near Phoenix Sky Harbor Airport, the doors for the center building are usually open and inviting, welcoming any approaching customer with smoke and great smelling food. Gear up for some decades-old family recipes and get ready to enjoy some Hap's Pit Barbecue!
Hap's got its start back in the early 1990s when Dan Darroch crafted their first trailer smoker using part of an old 1950s GMC truck chassis. Darroch then parked the smoker in front of his car dealership in downtown Phoenix and Hap's Pit Barbecue was born! Over the years, the barbecue name grew, and in December 2001, the Darroches moved Hap's to its current location on Washington Street. When the Darroches began thinking about retiring and getting out of the business nine years ago, their daughter Christine Darroch stepped in.
"If they had not sold the restaurant to me, they were going to close the doors. So, I quit my corporate job, and I'm here continuing the legacy," Christine said.
Christine says she's continuing her father's "dixie-style" of barbecue, primarily using Southern influences. She promised not to change any recipes and continue making food the way their customers have become accustomed to. However, Christine has made some changes by adding some Southwestern items to the menu with things like quesadillas, house-made spicy jalapeno salsa, and burritos (which any pulled or cut meats can be added to). But when it comes down to the heart of barbecue, the sliced brisket remains the most popular menu item at Hap's.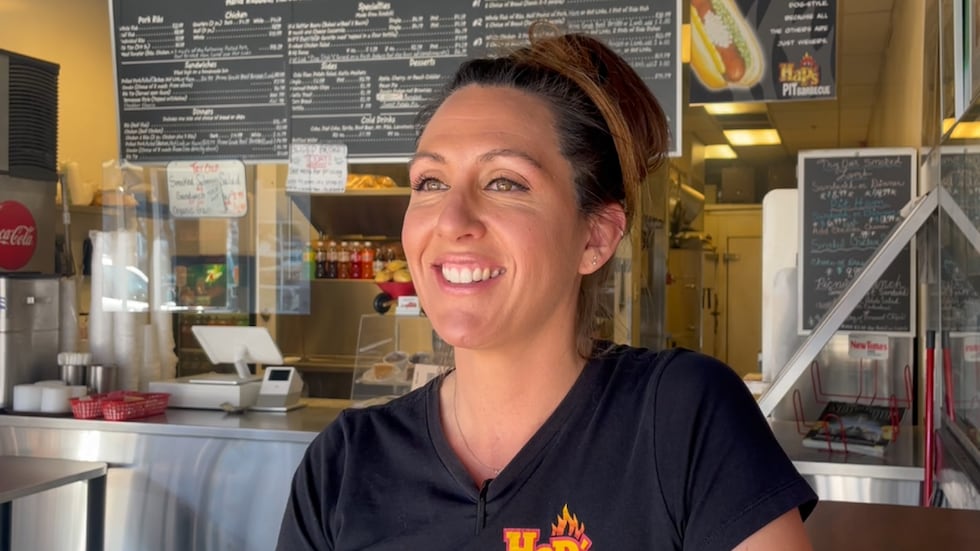 "We have signs letting our customers know to be here before a certain time we sell out. Everybody looks forward to the days we slice our brisket, which is Tuesday through Friday from 10:30 a.m. until it sells out, which is typically anytime between 1 and 3 p.m.," Christine said. "The second most popular are the ribs. I always tell everybody that they will never have better ribs than what they're going to get here at Hap's barbecue."
For Christine, being a female pitmaster is about more than just breaking barriers in the barbecue world; it's also about being a strong and positive role model for her son and two daughters.
"It feels amazing. It feels like a great example that I'm setting for my children, especially for my kids, for them to see a female that's able to conduct this type of business. Females aren't generally pitmasters and running barbecue restaurants, so I do run into a lot of people who are surprised to see that I do invest my time into my barbecue restaurant and just setting the example for my girls to be a leader and a small business owner in barbecue," Christine said.
JEFF'S PICKS
Aside from the Southwest additions to the menu at Hap's Pit Barbecue, their meats are smoked, char-grilled, and juicy. The sides showcase some barbecue classics and unique spins that are a must-try. And of course, don't forget about the desserts!
No messing about, Christine's claim regarding the ribs was on point. The slow smoked pork ribs were excellent all around; great seasoning in every bite, the meat wasn't too soft or too chewy and was perfectly in the middle and juicy from end to end on the bone. The outer layer had great texture as well. The ribs went well with all of the house-made sauces. The chicken and hot links both had an incredible smokey heat to them with a light grill char. Both had a great slight crunch to their outer skins as a result. The chicken meat itself was insanely soft, extremely flavor-packed, and went great with the house-made jalapeno salsa. The hot links were a great pairing with the hot and regular BBQ sauce.
The brisket was hands down mouth-watering, unbelievably soft and tender, and essentially melts in your mouth. Another excellent meat for any sauce occasion! One meat menu item not typically found at barbecue joints is Hap's smoked lamb. It's definitely a unique flavor, just a bit saltier than what most would be accustomed to when it comes to barbecue, but it works! When paired with Christine's house-made mint sauce (which is out of this world delicious), it's an uncharted new barbecue path to be reckoned with! If you're a fan of lamb, this won't disappoint!
Growing up, I was always a fan of broccoli and cheese (I understand it's not everyone's cup of tea), so I must say the broccoli and cheese casserole at Hap's Pit not only stood out as my personal favorite but was just an overall standout side dish! The cheese sauce was creamy and VERY cheesy. The dish had a nice backend bite of jalapeno as well, a must-try or accompanying side for any tray. The other specialty side, the old settler beans, are another exceptional endeavor. Very savory with a hint of sweetness in the sauce. Great ratio of beans to the sauce with bits of bacon and beef sprinkled in rounding out the pit stop to flavor town. Also, have to give a shout for the coleslaw. Some prefer their slaw more watery, others more of a thick consistency, but it's the perfect middle at Hap's. A tasty blend and great consistency all around for any slaw enthusiasts.
But wait, there's dessert! There's classic cobbler available in apple, cherry, peach and blackberry. You can't go wrong with the pecan or sweet potato pie either! And although Christine's smoked brownie sundae is currently not available on the menu, its rich and decadent style is worth mentioning, so when it does come back, you'll know it's a paradise fit for your sweet tooth! It's a special dessert Christine makes from scratch that has even been featured on the FOOD Network's Cooking Channel.
"We start by using the finest cocoa in our smoked house-made brownies. The Smoked Brownie Sundae consists of brownie served warm followed by our from-scratch caramel pecan sauce drizzled over vanilla ice cream and topped with our bacon pie crust crumble," Christine explained. While there is no current timetable for when the brownie will reappear, stay tuned for a future report upon its return!
It comes as no surprise that someone who wanted to carry on her family's barbecue legacy and be a strong role model for her children puts that same amount of love and devotion out into the community that Hap's happily serves. Christine said to her barbecue meant "family," and it shows as she greets and wishes well every customer who enters and exits her store. This barbecue joint embodies everything about what barbecue means when it comes to family and community. As I was leaving, one of the regulars said that the previous day he was playing his guitar in the parking lot for other customers while waiting for his order of ribs; it doesn't get more barbecue than that! Next time you have a craving for barbecue, consider stopping by Hap's Pit Barbecue, where you'll feel like family and part of the community.
LOCATION:
This is the fourth segment in a series on barbecue in the Phoenix metro. Arizona's Family Foodie is taking a look at how pitmasters have fused traditional American BBQ with Southwestern heat and spices, creating almost a new style within its own right. Barbecue brings people and communities together, so let's focus on the food and find new, great restaurants to support and enjoy together!
Copyright 2022 KTVK/KPHO. All rights reserved.